Viewing Table Content
When the page loads, all rows are expanded by default. The expanded view shows additional information about that rule or regulation, including a description and a link to the document with the official rule language.
When the row is expanded, click the minus sign (-) to collapse the regulation or rule details.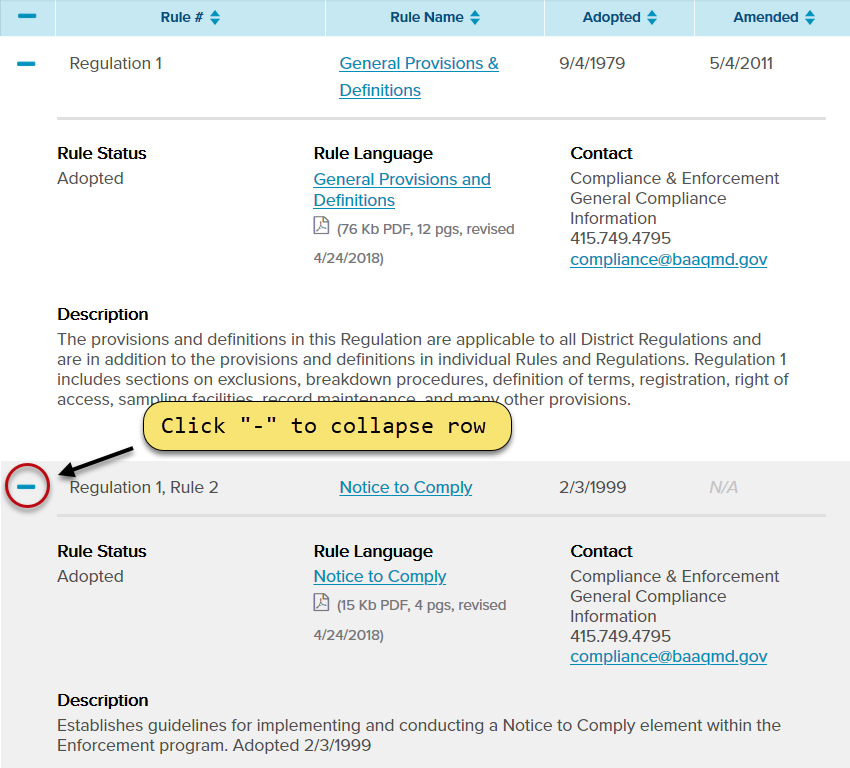 View of second row after expanding. Click minus sign (-) to collapse.
Click the plus sign (+) to expand the row and reveal the regulation details.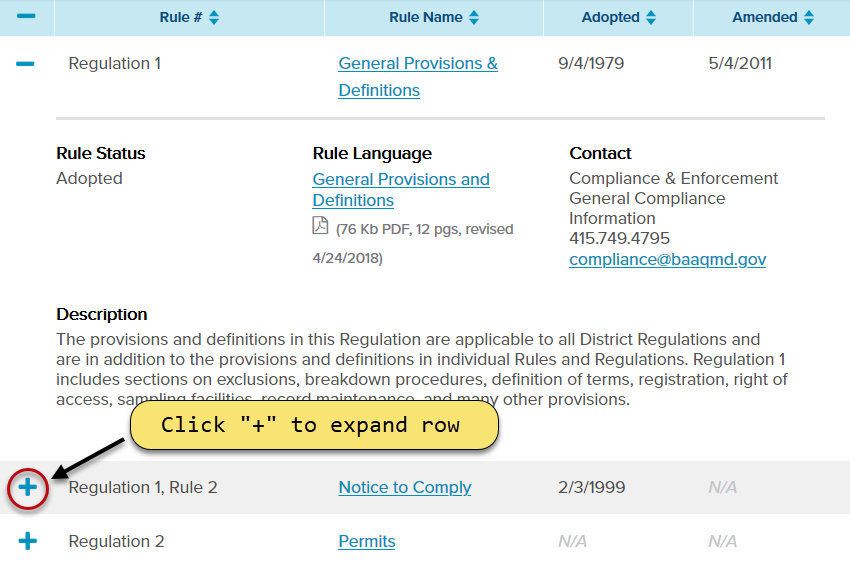 First row expanded by default. Click plus sign (+) to expand collapsed rows.
Table Sorting
By default, regulations and rules are listed in numerical order. The table can be reverse sorted by clicking the toggle in the Rule # column header. The table can also be sorted by clicking on the Rule Name, or the Adopted or Amended date columns.


Click the column heading to sort by that column.
Adjusting the sort will turn the column yellow to indicate which column the sort order is applied to.


Highlighting indicates manually sorted column.
Clicking once on a column toggle will sort by the selected column
Clicking a second time will reverse the sort order by the selected column
Clicking a third time will clear the sort and return to the default
Table Search & Filters
You can also search for regulations or rules by using the filters at the top of the table. The filters include:
"Search" - which enables you to enter a key word or regulation number.
"Adopted Date Range" – which enables you to enter a start and end date for searching.
"Regulation" - which is a drop-down menu that enables you to select all the rules under a specific regulation number.
The "Clear Search & Filters" button will return you to the original non-filtered settings.


Use search to filter results.
The Search & Filters area can be expanded or collapsed by using the toggle at the top.


Search box collapsed.