Viewing Table Content
The nearest upcoming meeting is expanded by default when the page loads. The expanded view displays the time and location of the meeting, as well as links to audio / video recordings and other documents associated with the meeting if available.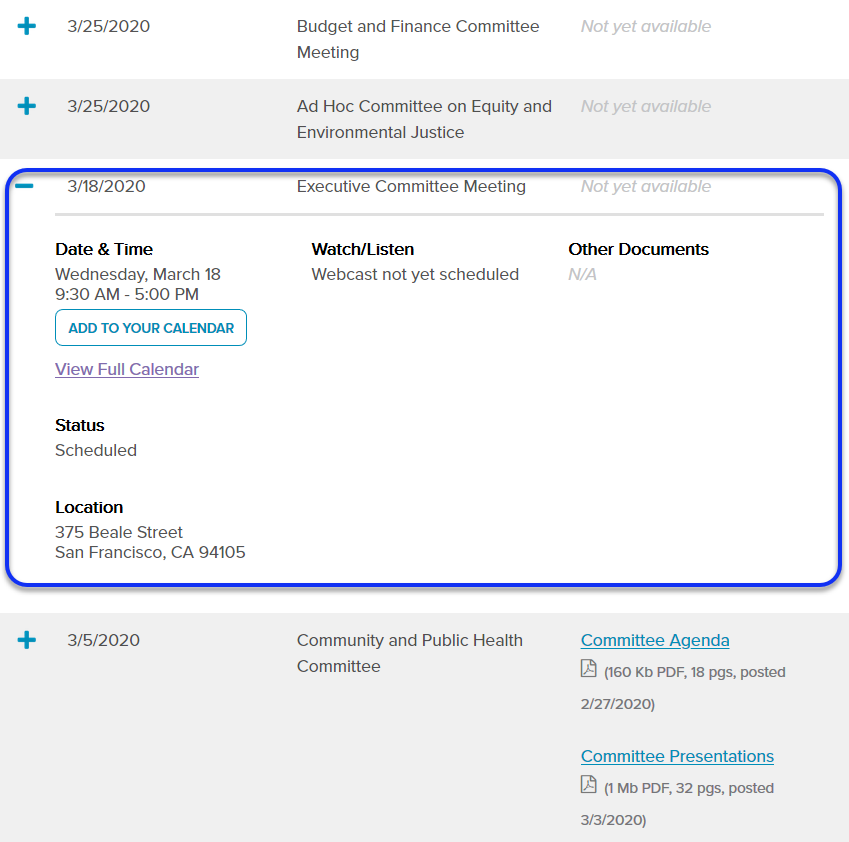 Nearest upcoming meeting expanded by default
Click the plus sign (+) to expand additional rows.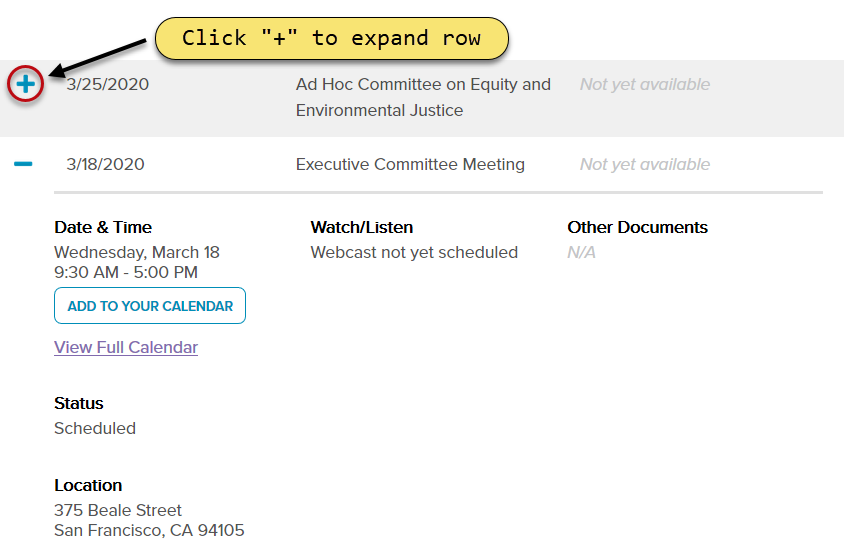 Click plus sign (+) to expand row
Click the minus sign (-) to collapse rows.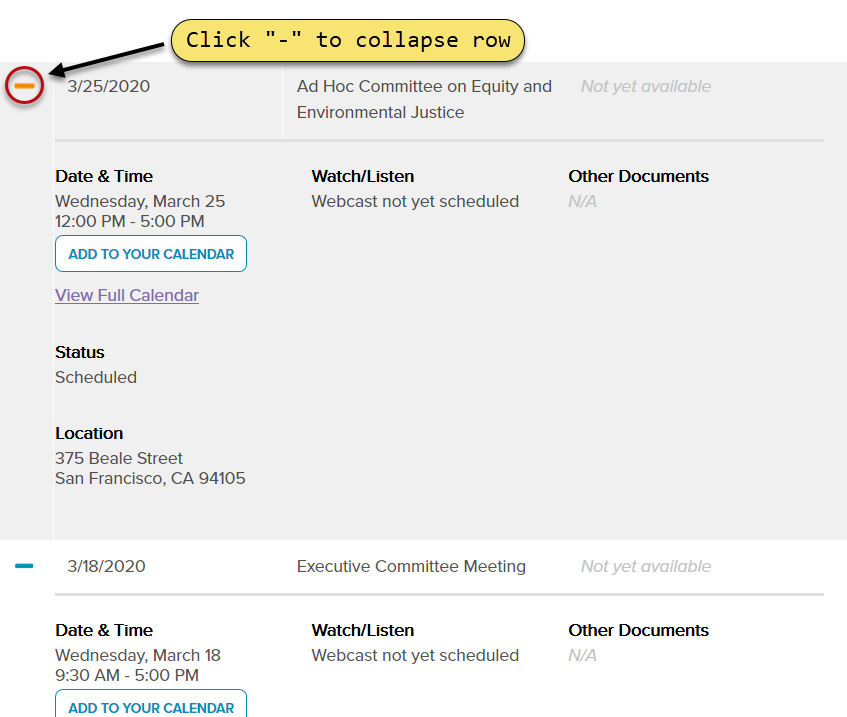 Click minus sign (-) to collapse row
Click the Add to Your Calendar button to add the meeting to your personal calendar.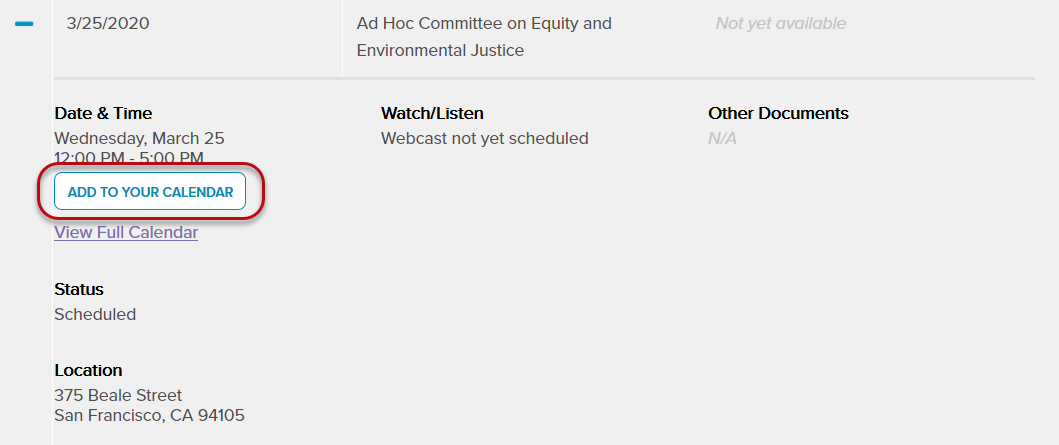 Add to Calendar button
The View Full Calendar link will take you to the Air District's full calendar of upcoming events.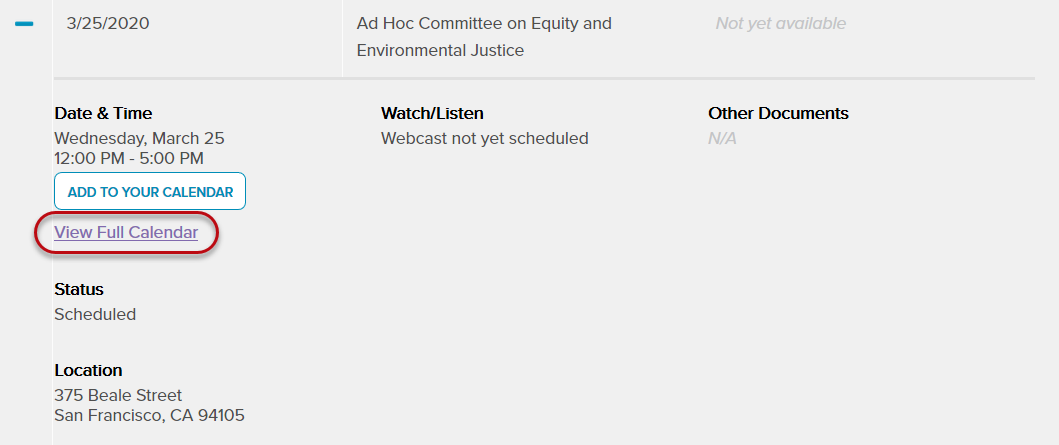 Link to Air District Calendar
Table Sorting
By default, meetings are listed in descending date order. The table can be reverse sorted by clicking the toggle in the Date column header. The table can also be sorted by the Meeting Type column.


Click the column heading to sort by that column
Adjusting the sort will turn the column yellow to indicate which column the sort order is applied to.


Highlighting indicates manually sorted column
Clicking once on a column toggle will sort by the selected column
Clicking a second time will reverse the sort order by the selected column
Clicking a third time will clear the sort and return to the default
Table Pages
You can find meetings by navigating through the table pages. Page numbers are located near the top of the table, just above the column headers.


Use paging bar to quickly navigate through table
The paging bar is duplicated at the bottom of the table for ease of access.


Paging bar duplicated at bottom of table
Often the nearest upcoming meeting will be on page two or three due to the inclusion of future meetings. You can move back or forward through the pages to access past or upcoming meetings as needed. By default, 10 table items show per table page. This can be adjusted in the Items per Page dropdown.
Table Search & Filters
You can also search for meetings by using the filters at the top of the table. The filters include:
Date Range: enter a start and end date for searching.
Meeting Type: sort by type of board or committee meeting.
Status: sort by scheduled or cancelled meetings.
Clear Filters: returns you to the original non-filtered settings.


Expanded filters view
The Search & Filters area can be expanded or collapsed by using the toggle at the top.


Collapsed filters view